Supermicro X13 Server Product Family Overview
---
The Supermicro X13 product line features over 200 servers and storage systems, all optimized for the latest features and capabilities of the 4th Gen Intel Xeon Scalable processors. The product line is divided into the following families.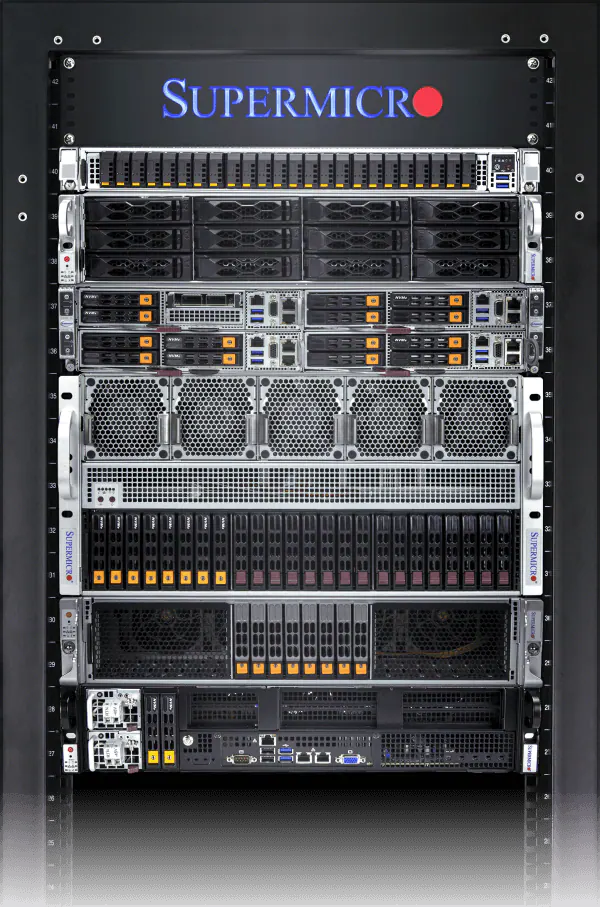 X13 Universal GPU Systems
Multi-Architecture Flexibility for AI/Deep Learning and HPC

The Supermicro X13 Universal GPU systems are engineered to handle even the most challenging AI, Deep Learning, and HPC workloads. They are optimized for maximum versatility and can accommodate a range of industry-standard GPUs, including OAM, SXM5, and PCIe from Intel, NVIDIA, and other leading industry partners.

Maximum Flexibility for AI, 3D Simulation and Metaverse

The Supermicro X13 PCIe GPU systems are designed to handle the cutting-edge demands of HPC, action-driven AI, 3D simulation, and sophisticated graphic design and rendering. They support up to 10 state-of-the-art accelerators in either a 4U or 5U rackmount chassis, delivering optimized performance for the next generation of computing needs.

Best-in-class Performance and Flexibility Rackmount Server

The X13 Hyper, a new addition to Supermicro's rackmount server lineup, delivers top-notch performance for the most challenging workloads. It offers storage and I/O versatility, making it easily customizable for a wide array of applications. This server boasts up to 3 PCIe 5.0 slots in 1U or 8 slots in 2U, providing ample space for GPUs and other add-on cards.

Ultra High-Density Multi-Node Systems for Enterprise, Cloud, HPC and AI Applications

The HPC platform from Supermicro delivers the highest density and unmatched versatility. It can accommodate up to 20 single-width UP or DP blades within an 8U enclosure, providing shared power, cooling, and networking for optimized efficiency. Additionally, liquid cooling options are available for unparalleled performance.

Industry-leading 2U Multi-node Architecture

The X13 BigTwin® systems from Supermicro are designed to deliver exceptional performance and easy maintenance in a multi-node setup. Each node is equipped with two 4th Generation Intel® Xeon® Scalable processors and features a convenient, hot-swappable design that requires no tools. You have the option to choose between configurations that are optimized for density (2U4N) or storage (2U2N), and you can even go for liquid cooling for the best performance possible.

Multi-Node Architecture Optimized for Single-Processor Performance

The X13 GrandTwin™ is perfect for cloud and media delivery workloads in tight spaces. It features front-serviceable, hot-swappable nodes for easy maintenance and front or rear I/O options for effortless installation. This system boasts a highly modular design and resource-saving architecture, making it both energy-efficient and environmentally friendly by reducing power consumption and waste.

Advanced Multi-node 4U Twin Architecture with 4 or 8 Nodes

Supermicro X13 FatTwin® systems are designed to offer top-notch performance while also being budget-friendly. They are ideal for use in virtualization and EDA applications. These systems have single processor nodes that can be serviced from the front, and they can hold up to six drives, making them incredibly space-efficient. Additionally, Supermicro has implemented its Resource Saving Architecture, which allows for shared power usage, further reducing the overall cost of ownership and environmental impact.

Single or Dual Processor All-in-one Rackmount Platform for Cloud Data Centers

The X13 CloudDC line of products comes in both single and dual processor configurations, making it possible to have high memory and storage capacity in just one rack-mounted case. These systems also have the ability to hold up to six PCIe 5.0 slots, which are perfect for accommodating GPUs to support AI processes at the edge. One of the standout features of these systems is the tool-less design of the brackets and the hot-swap drive trays, making maintenance and service in the data center a breeze.

Single Processor Platform Optimized for Maximum I/O Flexibility

The X13 WIO systems from Supermicro offer a broad selection of input/output options, so you can choose the perfect system to meet your specific needs. Additionally, the newly designed top-loading expansion slots allow for the use of double-width GPUs, which can greatly improve the speed of AI and machine learning workloads.

X13 Multi-Processor Systems
Maximum Memory Footprint for Enterprise Applications

The X13 multi-processor systems from Supermicro represent a major leap forward in terms of performance and versatility for running essential business workloads. With the ability to house up to 8 processors in just one rack-mounted system, these systems deliver unmatched core and memory density, making them ideal for running large databases and in-memory computing applications.

Best-in-class Performance and Flexibility for Edge Data Centers

Supermicro's X13 multi-processor systems are a game-changer when it comes to handling important business workloads. They offer a lot of power in a compact form factor, with the capacity to include up to 8 processors in a single rack-mounted setup. This gives these systems an unprecedented level of computing power and memory density, which makes them perfect for running large databases and memory-intensive computing tasks.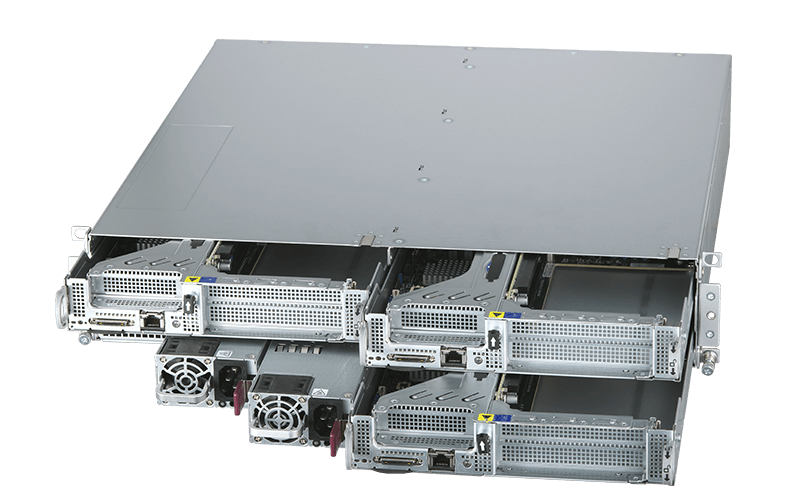 High-Density Computing and Flexibility at the Intelligent Edge

The X13 SuperEdge is a compact and versatile solution, offering 3 single-processor nodes that can be customized to meet your specific requirements. This system is housed in a 2U form factor that is shallow in depth, making it ideal for deployment in remote locations for IoT, edge computing, or telecommunications applications. The nodes are designed for hot-swapping and can be accessed from the front for easy maintenance, and each node has three PCIe 5.0 slots, allowing for a variety of add-on cards to be used.

Compact and Short-depth Rackmount Systems for Telco Edge Deployments

The X13 5G and Edge systems are specifically designed to meet the demands of multi-access edge computing, flex-RAN/Open RAN, and outdoor 5G edge applications. These systems offer advanced input/output capabilities and efficient device-to-device communications, all while using minimal space and power. Additionally, they offer firmware customization, upgrades to the bill of materials, and support for a broad array of traditional input/output options. This combination of features makes the X13 5G and Edge systems an optimal choice for edge computing applications.

X13 All-Flash EDSFF Systems
Revolutionary Petascale NVMe for Unprecedented Density and Capacity

The X13 storage systems provide unparalleled density, performance, and low latency, making them the ideal solution for data-intensive workloads, including critical databases, virtualization, big data processing, high-performance computing, media and entertainment, content distribution, and high-speed caching. They feature industry-standard EDSFF drives, ensuring maximum compatibility and reliability for your most demanding applications.

Data Center Power at the desktop

The X13 workstations from Supermicro bring the power of data center processing to your desktop computer, making them perfect for running demanding applications like AI, simulations, metaverse/Omniverse, and 3D media. These workstations have the ability to support up to 4 double-width GPUs and come equipped with enhanced cooling systems that deliver maximum performance while minimizing noise. This combination of features makes the X13 workstations a top choice for anyone in need of a high-performance desktop computer for demanding tasks.

Please contact us for a quote today...
To ensure the highest quality and avoid potential issues, Safe Consulting, an ISO-9001 certified vendor, has decided to discontinue its online server configurator. Instead, we verify all configurations with Supermicro's product experts before providing a final quote. This extra step guarantees a 100% certified system for our customers. Please use the contact form, send us an email or give us a call today +4769949200 for the best Supermicro prices. Safe Consulting has been an official Norwegian Supermicro System Integrator since 2001.
Feel free to communicate in Norwegian, Swedish, Danish or English.
Read more about why you should buy servers from Safe Consulting